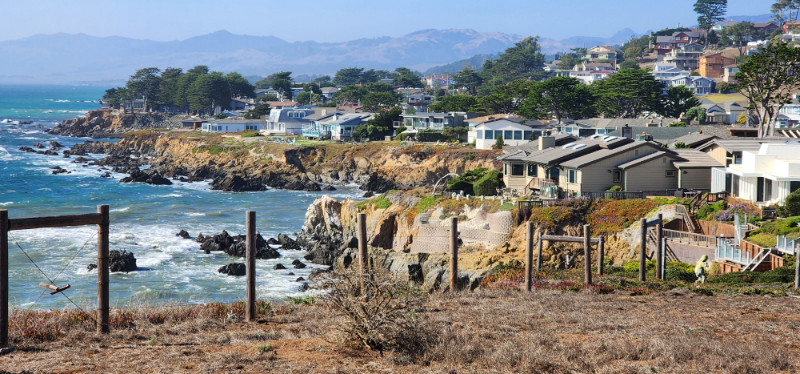 Cambria
ABOUT
Cambria is known to many as a destination spot for romantic getaways. Whether visiting or living here, Cambria has its own look and feel, a coastal town decorated with majestic Monterey pines.
HISTORY
Cambria was previously named Slabtown and inhabited by the Chumash, especially near the rivers.  In 1862 the discovery of Cinnabar, where Mercury is extracted the area became a boomtown and by 1878 prices fell and every dried up.
GEOGRAPHY
Cambria is approximately 8.5 square miles of light hills and Monterey pines is a community that still has a good amount of dirt road which gives it that country feel.
CLIMATE
Cambria can be slightly warmer and cooler than other spots on the coast but is still mainly 65 degrees most of the year.
DEMOGRAPHICS 
Cambria has less than 6,000 residents with a median age over 55 years old with many of the residents being retirees or secondary homes as vacation getaways.
ECONOMY
Cambria is a tourist destination with shops, restaurants, and events to attract people to the area.  Cambria's business district is along Main street which primarily consists of local stores and shops.
CULTURE / LIFESTYLE
Cambria is a quaint, friendly town that is warm and inviting, it is common to drive through residential neighborhoods and see deer, turkeys, and even peacocks crossing the road.
THINGS TO DO
Cambria and the surrounding areas have events virtually every weekend of the year if not multiple like the art and wine festival, Sundays in the park with live music, wood carvers show, scarecrow festival, Oktoberfest, Cambria Christmas market, hiking, walking, biking, shopping and great outdoor areas like Fiscalini Ranch, with Heart Castle and the Elephant Seal rookery just to the north.
REAL ESTATE
A historical beachside community with homes that range from $400,000 to $6,500,000 with a moderate amount of commercial for its town size and a relatively low amount of residential income properties.
SERVICES
Cambria is an unincorporated city and has the Cambria Community Services District.
LANDMARKS
Fiscalini Ranch preserve and Moonstone beach are iconic for the area.